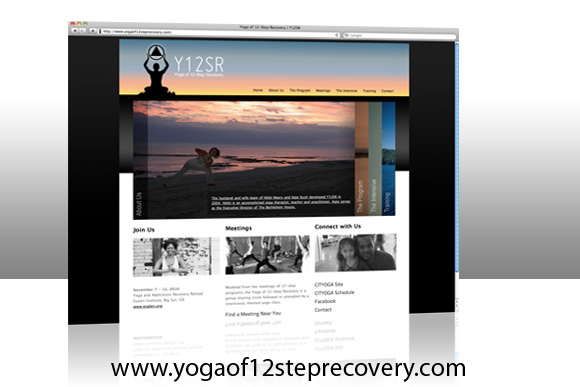 This website is for a cause I am proud to have worked with. Yoga of 12-Step Recovery is a combination of yoga and the well known addictions program known as 12-Steps. My wife, Jenni, is training right now to become an addictions counselor, so I know all about the 12-Step program and how it relates to addictions. I also believe that adding yoga to the mix is a brilliant idea.
The husband and wife team of Nikki Myers and Nate Rush are the geniuses behind Yoga of 12-Step Recovery (Y12SR). Nikki is an accomplished yoga therapist, teacher, somatic experiencing practitioner and also one of my favorite people ever. She is the owner of CITYOGA School of Yoga and Health in Indianapolis, IN, and her attitude towards life is contagious.
The amazing thing about this program is that, in a word, the characteristics and effects of addiction could easily be described as separation. Addictive behaviors separate and disconnect us from ourselves, our loved ones, our environment and so much more. Conversely, yoga itself means union, integration, balance. Yoga and its practices teach the fine art of balancing our multidimensional lives while living in a complex world. The 12-step program approaches addiction at a cognitive level, while yoga includes a somatic approach. The combining of the two creates a model that truly addresses addiction as the physical, mental and spiritual disease that it is. Yoga of 12-Step Recovery recognizes that yoga and its practices are a part of a holistic recovery program and rather than a replacement, it provides adjunct tools to address the physical, mental and spiritual disease of addiction.
I did my best to design a website that gives all the information of the group, including meeting times, intensive dates and training dates, all while embodying the hopeful nature of recovery. Please, check it out and let me know what you think.
Visit Yoga of 12-Step Recovery.
Thank You, Blogstalkers. I always love sharing my latest projects with you, but this one is pretty special.
-Adam