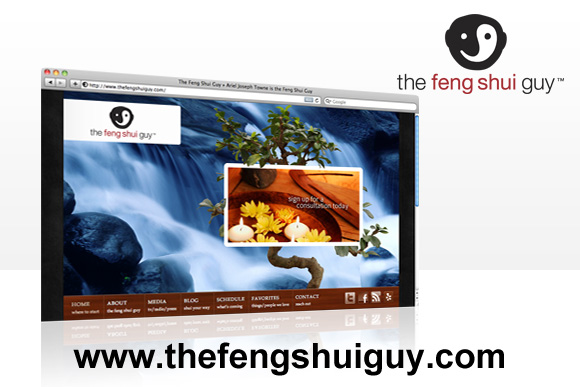 Ariel Joseph Towne is the Feng Shui Guy.  www.thefengshuiguy.com
Called "an alchemist of possibility," Ariel takes stagnant spaces in people's homes and minds and transforms them into positive, intentional spaces. He makes a room come alive, and is an internationally recognized feng shui expert. Also, he's a pretty cool guy, all around.
I met Ariel while shooting some yoga videos with Sadie Nardini out in New York.  I fell in love with Ariel's positive attitude right away, and I knew I wanted to work with him, so I offered to re-design his website.  At the time, I had NO IDEA how much work it would take!  I spent a ridiculous amount of time on this website, not only because it had to be functional to the extreme, but it also had to incorporate all of the elements of feng shui.
When you first visit, you're presented with water, an important element of feng shui.  Not only that, but it is "flowing" water.  If you move your mouse over the water, it moves back and forth. Then, as you work your way through the site, you experience the remaining five elements of feng shui- wood, fire, earth and metal.  Each section has a different header and color-scheme, to maximize the shui.
Check out the new site, and let me know what you think.  I'd appreciate some feedback!  www.thefengshuiguy.com
Thanks, blogstalkers!
-Adam