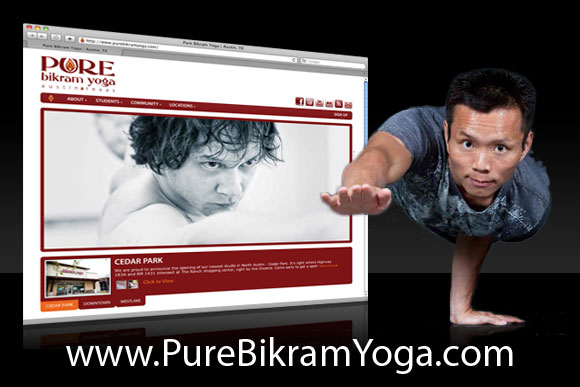 Well, blogstalkers, by the look of all the recent posts (or lack thereof), it would seem that I haven't been very busy lately. In reality, that couldn't be further from the truth! In fact, it's BECAUSE I've been so busy that I haven't had a chance to update my own site and blog for so long. One project that I've been working on that is finally nearing completion is the new site for Pure Bikram Yoga, www.purebikramyoga.com.
When Tedd Li, the designer for PURE, came to me last month, I was thrilled. He had seen Sadie Nardini's website, which he LOVED, so he came to me wanting the same designer for PURE Bikram Yoga, located in Austin, TX. With much back and forth and many, many, many conversations and changes, the final result is something to be proud of. There are still a few sections that need to updated, which I'm waiting on content for, but I would love for you all to check it out and let me know what you think.
One website design down, six more (and counting) to go! Look forward to many more updates soon, blogstalkers!
-Adam
***UPDATE*** Unfortunately, Pure Bikram Yoga has recently redesigned their website and my design is no longer in place. Such is the way of the online world!