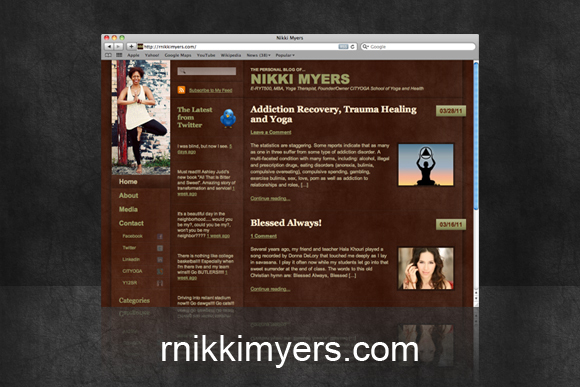 Another day, another update. This is another project I've been working on. This is the new website and blog for Nikki Myers, my good friend and owner of CITYOGA School of Yoga and Health (which I also designed!).
Nikki is an accomplished teacher and practitioner on the path of Yoga. A unique focus of her path has been the integration of yoga in healing. In fact, Nikki came to yoga in the midst of her own health crisis, but quickly realized yoga was centering and firmly grounding her in a scared space that allowed healing to happen far beyond the physical.
Born out of her personal struggles with addiction, Nikki is also a co-founder of the acclaimed Yoga of 12-Step Recovery program (also designed by me!), featured in the New York Times and Yoga Journal. She is quick to tell the world, "The 12-step program and Yoga saved my life – one is my lifeboat, the other my launching pad."
I designed this blog to represent Nikki and her personality. Powered by WordPress, I tried to make it as down-to-earth and "earthy" as possible. Nikki regularly goes to Africa through the "Off the Mat, Into the World" organization, and I wanted to capture the essence of Africa and dirt. I hope you like it! Let me know what you think, blogstalkers.
-Adam