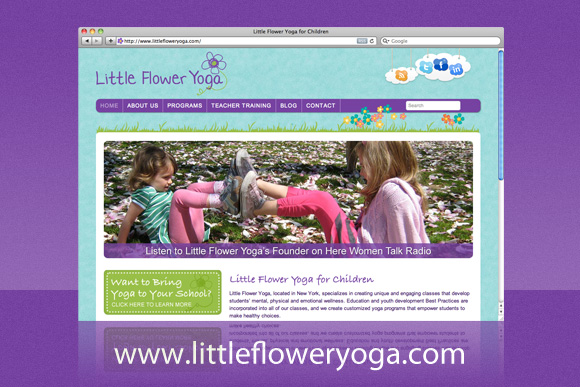 I am SO EXCITED to share this next site with you. I've been working hard on this site for what seems like months now, fidgeting and editing and making it perfect. Then, when it was finally designed, I had to switch the whole site to a new hosting server for speed issues!!! (Network Solutions SUCKS for WordPress, by the way) So, now that it's switched, the site is AWESOME and SPEEDY to boot!
Little Flower Yoga specializes in yoga for children. They create unique and engaging classes that develop students' mental, physical and emotional wellness. Awesome! The owner, Jenn, is really nice, too. I'm glad I could make all the changes and give her exactly the site Little Flower Yoga deserves, though I have to say figuring out how to give each section (including WordPress pages AND categories), their own unique color took awhile.
Anyway, let me know what you think, blogstalkers. Really proud of this one! www.littlefloweryoga.com
-Adam
***UPDATE*** Alas, Little Flower Yoga has changed their design since this posting. They have gone with something a little more modern instead of my more child-like design.