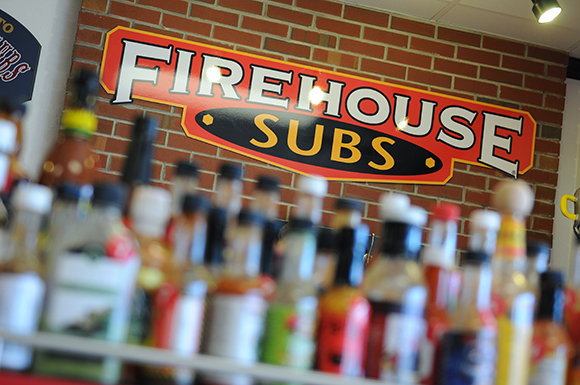 My wife Jenni and I were thrilled to be invited to dinner Monday night with Firehouse Subs founder, Robin Sorensen. It was a fantastic marketing event where local media, food bloggers and photographers were able to see what Firehouse Subs is all about. I'd heard about Firehouse Subs from a friend, and I was excited to learn about the sub shop that was founded by firefighters.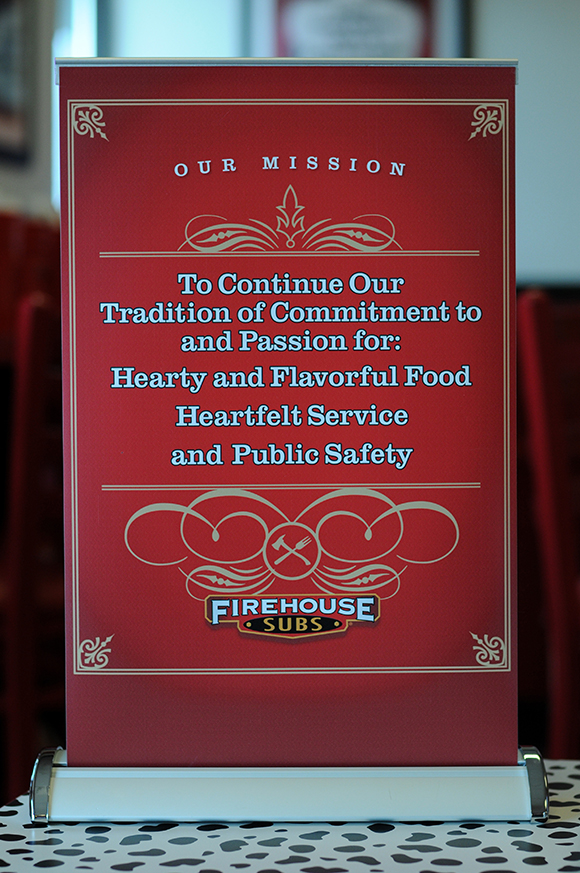 With a mission statement like that, how could you go wrong? Founded in Jacksonville, Florida by former firefighting brothers Chris and Robin Sorensen, Firehouse Subs is a fast-casual restaurant chain. Restaurants reflect an authentic firefighter heritage, as well as the founding family's decades of fire and police service.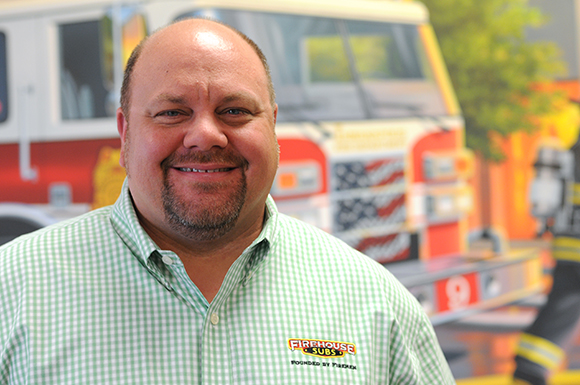 Here's Robin Sorensen, a great guy and passionate about food, service and public safety. What sets Firehouse Subs apart from other restaurants is its dedication and commitment to giving back to the community. In 2005, the company created the Firehouse Subs Public Safety Foundation, a non-profit organization dedicated to improving the life- saving capabilities of emergency service entities in communities served by Firehouse Subs by providing funding, resources and support to public safety entities. To date, the Foundation has donated more than $6.3 million in life- saving equipment and resources throughout 36 states and Puerto Rico. How awesome is that?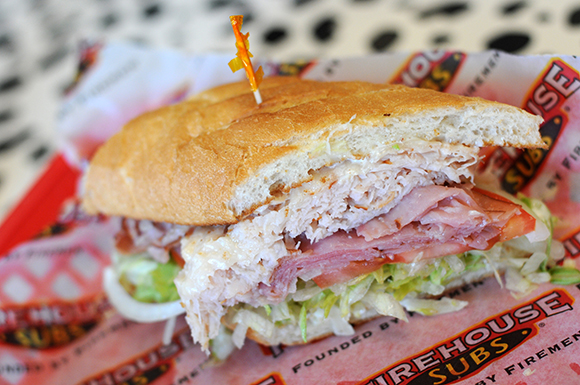 Of course, Firehouse Subs is able to raise money and help communities by serving delicious, meaty sandwiches. Each sandwich offers oversized portions of premium hand sliced meats and cheeses, steamed to make the flavors burst, then piled high atop a toasted sub roll and served with mayo, mustard, lettuce, tomato, onion and a dill spear on the side. The first sandwich we got to try is the Hook and Ladder. Smoked turkey breast and Virginia Honey Ham smothered with Monterey Jack. Named after a fire truck, this sub continues to be the most popular amongst restaurant patrons.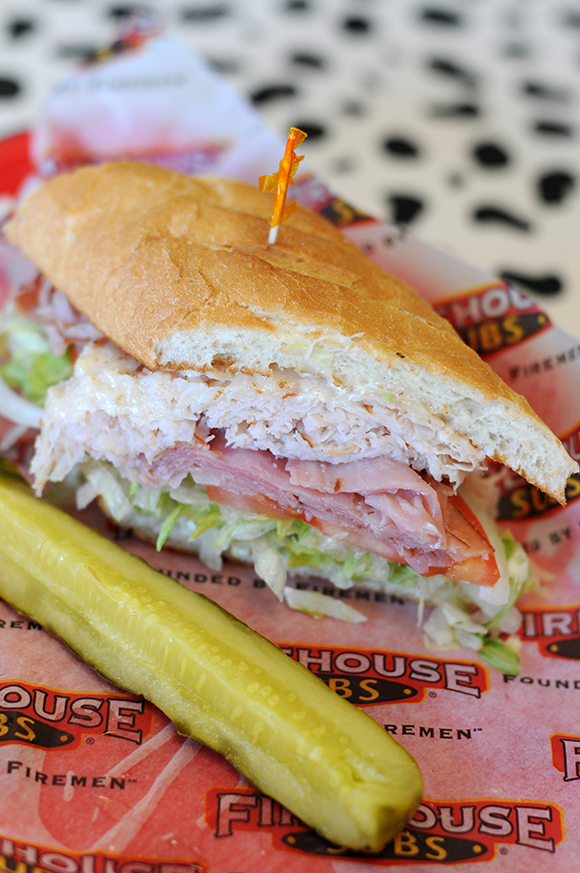 Next up we tried the Smokehouse Beef and Cheddar Brisket. Loaded with a quarter pound of freshly sliced USDA choice beef brisket smoked for at least 10 hours in an authentic smokehouse, the brisket is steamed with melted cheddar cheese, piled high atop a toasted sub roll, then topped off with a special combination of sauces, including Sweet Baby Ray's BBQ sauce. It tasted absolutely divine.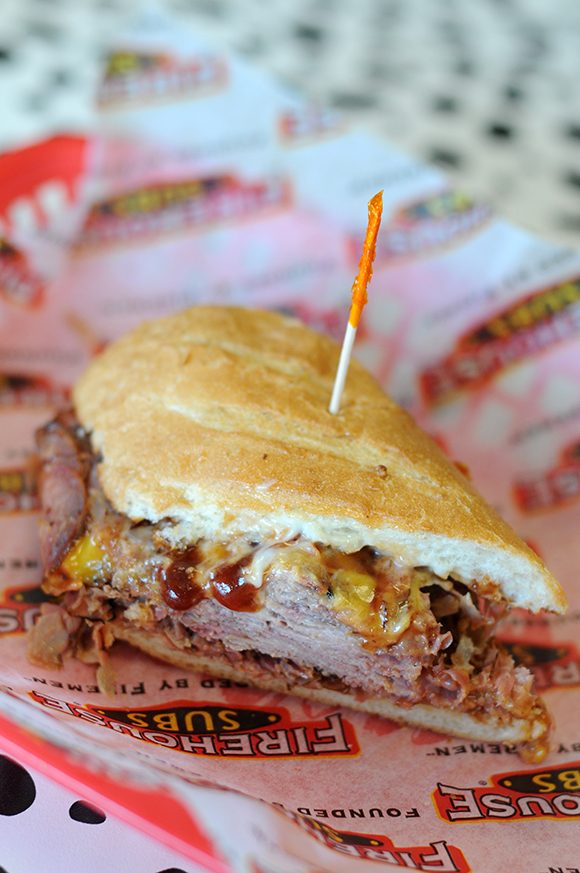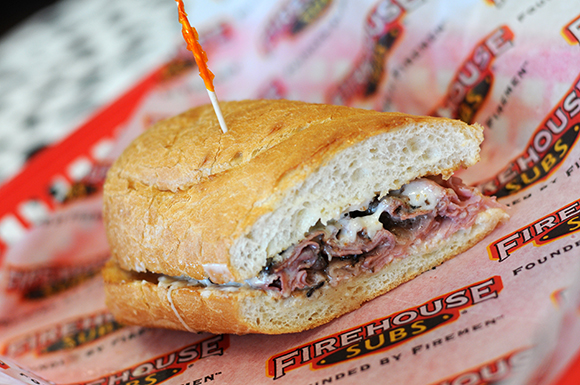 Our third sandwich was Robin Sorensen's favorite. It was the New York Steamer. Corned beef brisket, pastrami, melted Provolone, mayo, mustard and Italian Dressing. Named after a fire truck, this sub was inspired by the Delicatessens of New York. I didn't think anything could top the brisket, but this might be my favorite thing on the menu.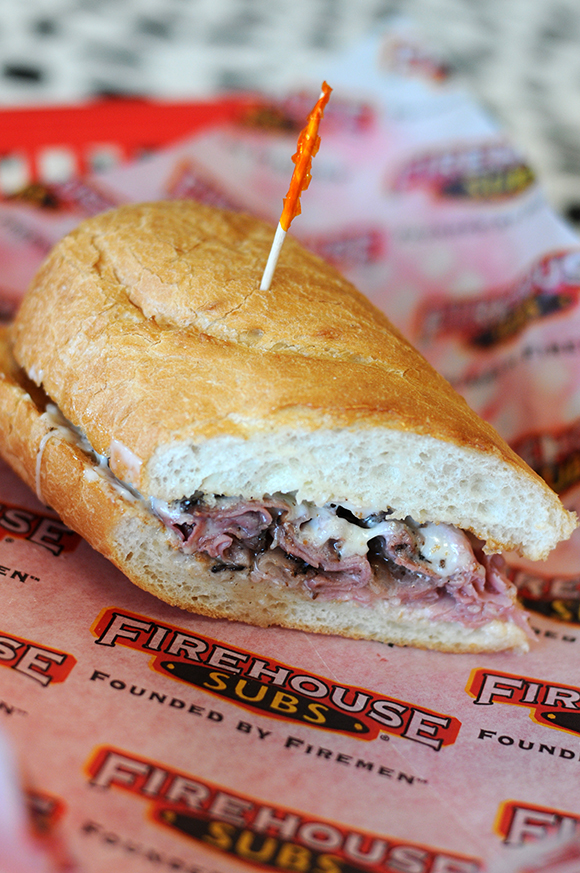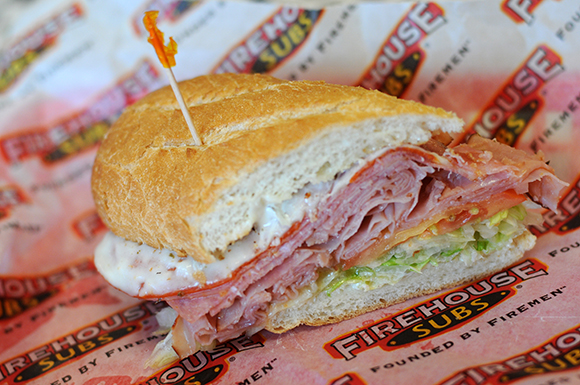 Lastly, we tried the Italian, a true classic. It has Genoa Salami, pepperoni, ham, Provolone cheese and Italian Dressing sprinkled with Italian Seasonings.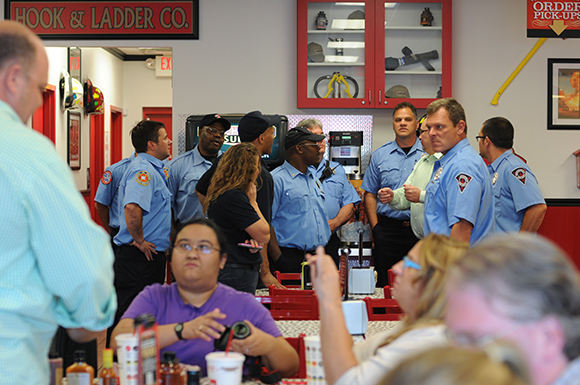 What made the event truly special was halfway through the event, almost all of Ladder 9 of the Indianapolis Fire Department showed up to have dinner, along with some EMTs. This was completely unplanned by the marketing crew, but was awesome none the less. Firehouse subs, founded by firefighters and obviously frequented by them as well! They didn't stay long though, as they got called off to actually fight a fire. It was impressive seeing them all rush off to the fire truck.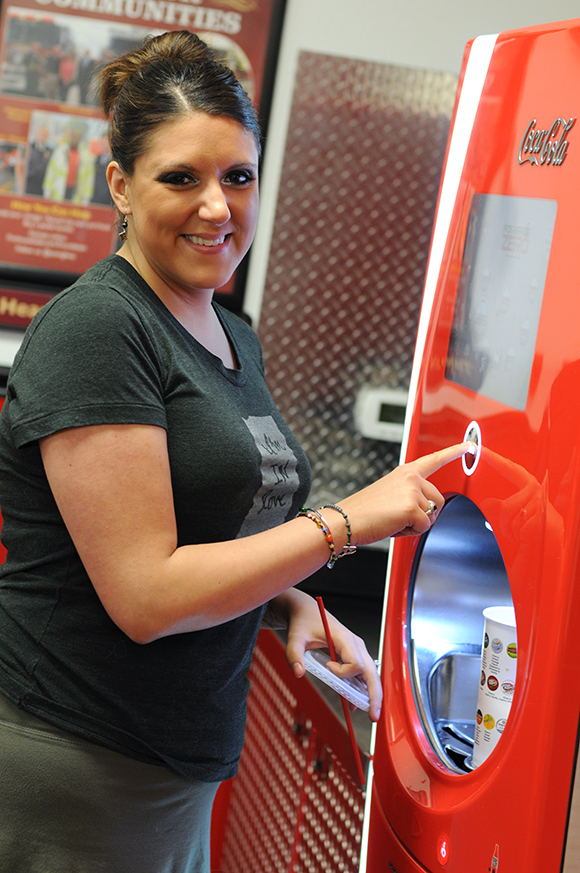 One other thing worth mentioning is how awesome their drink machine is. Firehouse subs is the first chain to fully support and adopt Coca Cola Freestyle machines. You can pick your base drink and add flavors and make over 120 different flavor combinations. I've never had so much fun choosing a drink! I went with Diet Dr. Pepper with cherry/vanilla flavoring. Delicious!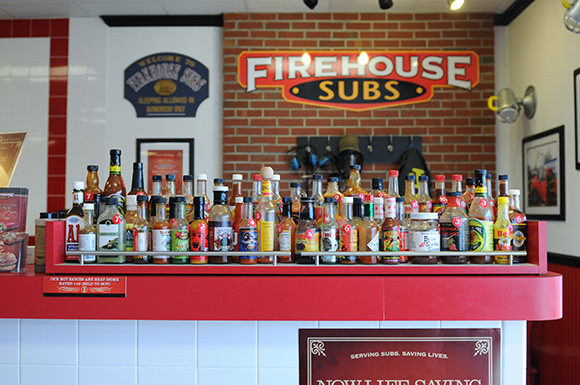 Another aspect that Firehouse Subs is known for are their many, many hot sauces. Robin told the story of how this originally started. The first Firehouse Subs only had one hot sauce, but when someone asked Robin for a different kind he went down to the local grocery store and bought every sauce they had. From then on, they started becoming known for having a wide variety of hot sauces. So many to choose from!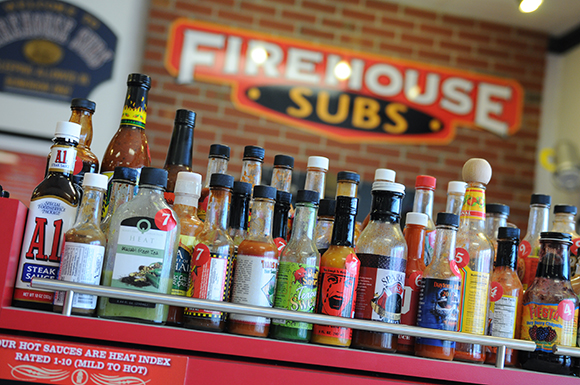 To help in deciding, each sauce is labeled with a number from 1-10, mild to hot.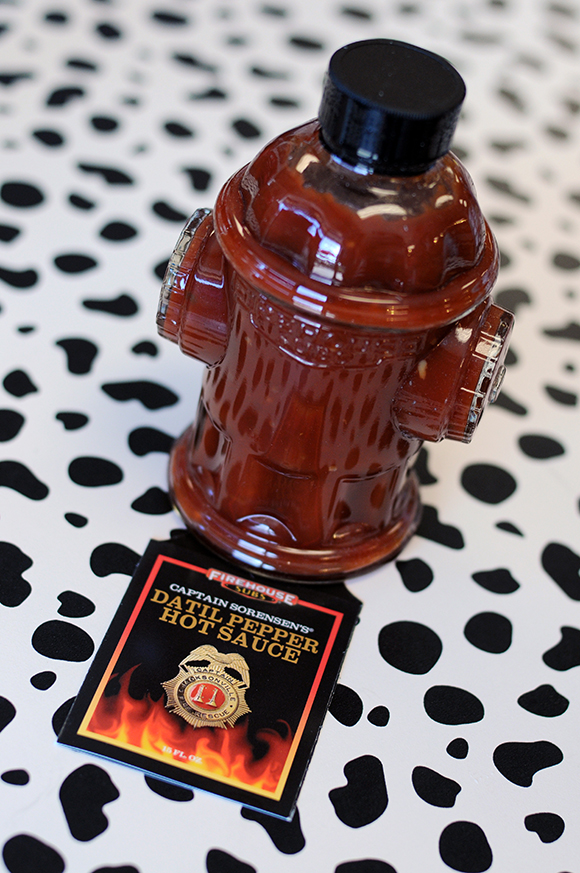 They even developed their own sauce, which is by far their most popular. The special recipe datil pepper hot sauce is named in honor of Robin's father, Captain Robert Sorensen, a 43-year firefighting veteran. It's sweet and spicy.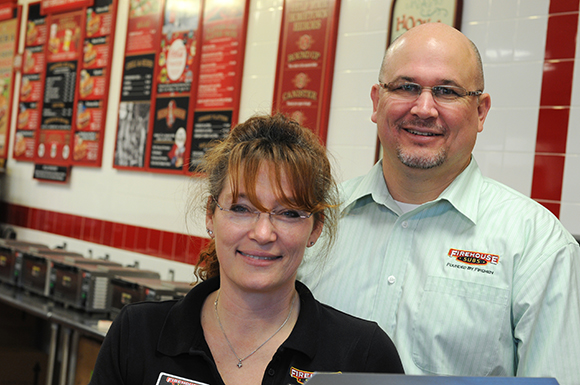 It was truly a fantastic evening filled with great food. I can't believe I'd never tried Firehouse Subs before, but now that I have I can't imagine going back to someplace like Subway. The last photo I took was of the two franchise owners for the Carmel location where the event was held. I highly recommend you drop in and try them out sometime, blogstalkers. Their sandwiches are phenomenal and it's so much fun choosing what to drink!
-Adam