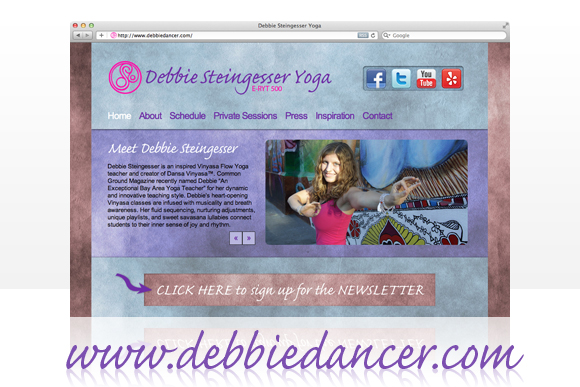 I would like to introduce everyone to Debbie Steingesser, an amazing yoga teacher and a true inspiration. She is the founder of her own dance style of yoga, called Dansa Vinyasa™. I had the distinct pleasure of updating her website to better reflect her style and nature.
Debbie's heart-opening Vinyasa classes are infused with musicality and breath awareness. Her fluid sequencing, nurturing adjustments, unique playlists, and sweet savasana lullabies connect students to their inner sense of joy and rhythm. Her classes often feature live musicians and unite the practice of yoga with an authentic connection to daily living. Personally, I've never had the opportunity to take one of Debbie's classes firsthand, but I can't wait for the opportunity.
Dansa Vinyasa™ is Debbie's original blend of Flow Yoga, Traditional West African Dance, Kirtan, and Live African Percussion. She has been a featured presenter of Dansa Vinyasa™ workshops at a variety of studios and conferences including: Earthdance, Harmony Festival, Yoga Tree (SF), Exhale Center for Sacred Movement (LA), Wild Lotus Yoga (New Orleans), and Bhakti Fest. Debbie is based out of San Francisco, so if you live in the area you should definitely check her out. If not, keep an eye on her schedule to find out when she'll be at a studio or conference near you.
I love Debbie and her personality, and I'm so happy to launch her new website. Check it out, blogstalkers! www.debbiedancer.com