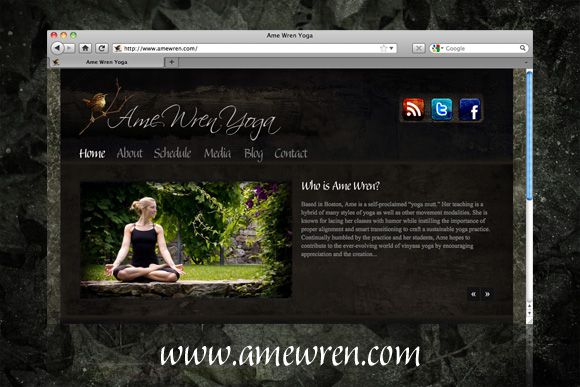 I just had the absolute pleasure of updating the website of a fantastic yoga teacher, Ame Wren.  Doesn't she have the coolest name ever?  Fittingly, the new website incorporates a wren.  Love it!
Based in Boston, Ame is a self-proclaimed "yoga mutt."  She is known for lacing her classes with humor while instilling the importance of proper alignment and smart transitioning to craft a sustainable yoga practice. Ame is a Lululemon Ambassador and was recently named Best Yoga Instructor in the 2010 Boston magazine "Best of Boston" awards. She leads teacher trainings and retreats nationally and internationally and is a featured teacher at Wanderlust Festival.
So, in essence, Ame is pretty awesome.  I'm glad I had the chance to make her a new website that incorporates her personality and style.  Please check it out… check her out… and let me know what you think!
Click the link, blogstalkers!  www.amewren.com
-Adam