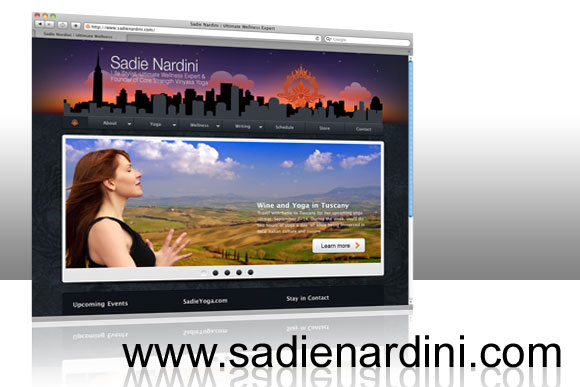 I have been working on this site for a long time now. Sadie Nardini is by far one of my favorite people in existence. I first met her while I was working out in New York. She was my first introduction into the world of yoga, and because she was my first I have been forever spoiled. Sadie is a master. She can speak clear, concise directions while doing the most difficult yoga poses (like crow pose), all without losing a beat. I've always thought she needed a better website, and I jumped at the opportunity to design something worthy of her awesomeness.
Please check out her newly design site and let me know what you think. The moving header was especially difficult, but it was a lot of fun putting it together! Sadie is a New York yogi and I wanted a compelling header, and what's more compelling than a 3D skyline? This site was a lot of fun to put together and a vast improvement over her old MobileMe site. I hope you like it as much as I liked making it!
Thanks for blogstalking!
-Adam