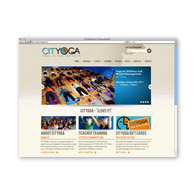 CITYOGA Shool of Yoga and Health
Located in Indianapolis, CITYOGA offers yoga classes from a variety of styles and traditions. I created this website with the fabulous owners of CITYOGA in mind. I incorprated Healcode widgets so their Mind Body account would be synchronized seamlessly with thier home website, making it easy for not only the owners, but the clients as well.
Visit www.cityoga.biz.