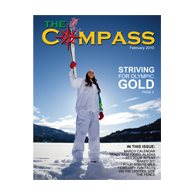 February Compass 2010
This is the fourteenth issue of a monthly magazine produced for an estate and financial planning company. This issue is all about the Olympics. The Winter Olympics are an inspiring thing. This issue is filled with inspiring stories all related somehow to the Olympics. Even the colors are Olympic!
For more information about this magazine, Contact Adam.