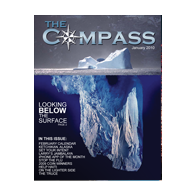 January Compass 2010
This is the thirteenth issue of a monthly magazine produced for an estate and financial planning company. it's the start of a new year, and January is usually known for its winter snow. Thus, the theme of this article incorporates icy blues, with the feature story involving an iceberg.
For more information about this magazine, Contact Adam.