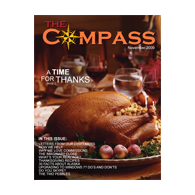 November Compass 2009
This is the eleventh issue of a monthly magazine produced for an estate and financial planning company. If you want recipes, this is the issue for you. Thankgiving is a time to stuff your face, and this issue has numerous recipes to help you do just that.
<
For more information about this magazine, Contact Adam.