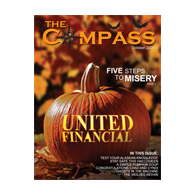 October Compass 2009
This is the tenth issue of a monthly magazine produced for an estate and financial planning company. To date, we've had more fun making this issue of The Compass than any other. Halloween is one of our favorite holidays, and this issue is packed full of Halloween tricks and treats.
For more information about this magazine, Contact Adam.