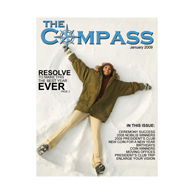 January Compass 2009
This is the first issue of a monthly magazine produced for an estate and financial planning company. Produced every month, it's filled with content for the 300+ employees and representatives of the company. This magazine is Seegull Media from cover to cover.
For more information about this magazine, Contact Adam.